9 OUT OF 10 COMPUTER NETWORKS HAVE POTENTIALLY SERIOUS IT PROBLEMS SITTING UNDETECTED
Don't get caught with your pants down!
Are you wondering if there are holes in your security blanket? Maintaining the security of your business is a lot tougher than you think and it's even more critical than ever before. Don't fall victim to Cyber Attack. At Connections we provide a FREE IT Security Assessment (also known as a security audit or review).
Our assessment will let you know if and where the gaps are in your IT Network and we will offer strategic recommendations to help mitigate risk and protect your data from cyber attack!
There's absolutely nothing wrong with asking for a second opinion. We think your business is worth it!
Here's What You Get: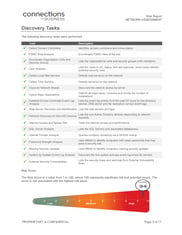 Our Client Risk Report Is a 6-8 page Executive Summary that provides an overview of the devices on the network along with a network Risk Score and analysis of each potential issue we uncover. We will review this document with you, discuss the findings, in detail, and answer any questions you may have.