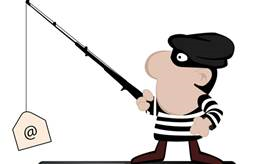 I'm sure you've heard the old saying "If it looks too good to be true, it probably is!" This is the perfect motto for IT safety this holiday season. Take a look at the below example of an email "Phishing Scam".
You received a message that says "You won $1 million dollars!", problem is you got it from an online lottery that you've never heard of. No matter how tempting it seems, do not respond to a message that asks you to send money or personal information.
The entire goal of a "phishing scam" is to steal your valuable personal data, such as credit card numbers, passwords, account data, and other information.
If you think you've received a phishing e-mail message, do not respond to it. The con artists who design phishing scams send out millions of fraudulent e-mail messages that appear to come from organizations you know and trust, like your bank, credit card company, or school. The e-mail will direct you to provide personal information such as your bank account number or social security number. The bogus e-mails often include links to authentic-looking Web sites that have logos taken directly from legitimate Web sites. If you think you've received a phishing e-mail message, do not respond to it.
While many people think that computer security concerns only relate to viruses, personal security is equally important. There are numerous types of fraud that can endanger computer users on a personal level—and e-mail is an extremely effective way to distribute fraudulent messages to potential victims. Privacy protection has become essential today because of the wide spectrum of dangers including identity theft, e-mail hoaxes, phishing scams (fake e-mail messages that request sensitive data), malicious attacks and spyware technologies which increasingly target Internet users.
Connections has a weekly email series called IT Security Tips, these emails are very informative and can help to keep you, your friends, family and colleagues safer when online. Sign up today to start receiving a weekly tip! You can't put a price on safety!