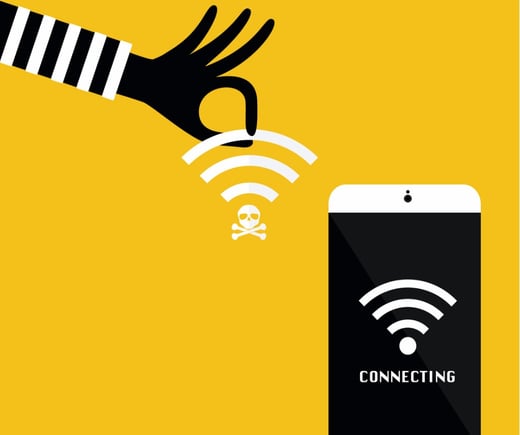 We've all heard about hackers breaking into public WIFI to steal identities. Many of us have also seen stories about hackable smart cars and hacked garage doors mysteriously going up and down. But did you know that your refrigerator, your Grandpa's pacemaker and many other devices whose security we take for granted could be the target of a hack as well?
According to Forbes, in 2020 the number of connected devices will reach more than 21 billion. By 2021 more than 50% of North American homes will be 'smart homes', 73 million households in all! So what does this mean for people, businesses and even our nation? One thing that is definite – cybercrime is only going to escalate!

We rely on smart devices to help manage our daily lives. We shop online with our phones, listen to music on our watches, play games on our tablets, stream movies on just about anything and we can even control our thermostats away from home. Smart devices are incredibly useful, but if they aren't secure, they can also pose a potentially serious security threat.
In addition to the more obvious smart devices such as our computers, tablets and cell phones, these are just some of the smart devices that could pose a security risk;
Smart TV

Car Keys
Cars
Smart Model Refrigerators
WIFI provided by your ISP provider
Printers
Baby Monitor
Car Brakes
Gaming Consoles
Medical Implants (ie) Pacemaker
Traffic Lights
Drones
Digital Cameras
Garage Door Opener
Front Door
Kid Tracking Devices
Landline Voicemail
Home Automation Systems
Alexa
Low Earth Orbit Satellites
It is important to understand the risks that come with networked devices. It is equally important to understand that our information isn't secure just because we have a strong password or we're using protection software against malicious hackers.
There are many things over which we have no control – and so we rely on the smart device manufacturers to help secure the products we buy and use. Besides this 'first line of defense', here are some tips to help raise the security level:
Make sure you are using the latest security and firmware updates (home and office).
Make sure that your default usernames and passwords are changed. An example of this would be a seemingly "innocent" baby monitor. Change the default usernames and passwords ASAP on all devices.
Use encryption, even on the files you store in your network storage device.
Set up your own "private" network for your network devices.
Do your very best to use common sense – make it a point to understand that almost anything can be hacked – even your hardware devices.
Restrict network devices from accessing websites they shouldn't be accessing – only allow them to pull updates—and nothing more!
Practice online safety as much and as often as you can, especially with the devices that are a necessity in your household and your daily lives. If you want to take a step in the right direction, we invite you to learn more with us. Connections for Business sends a "Cyber Security Tips" email with a new security tip every week. Sign up today, it's free and the information is invaluable.