Connections for Business Ranked Among Top 501 Managed Service Providers by Penton Technology's MSPmentor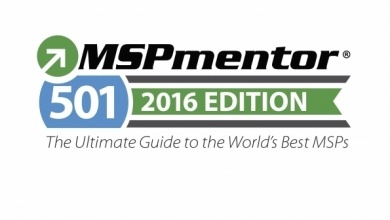 HOLLYWOOD, FL -- Connections for Business ranks among the world's most progressive 501 Managed Service Providers (MSPs), according to Penton Technology's 9th Annual MSP 501 list and study. As an MSP 501 honoree, Connections for Business was ranked 236 from a list of companies comprised of businesses from around the world and across a diverse set of technology and business backgrounds.
The complete 2016 MSP 501 list is available at MSPmentor. In addition to honoring Connections for Business, this year's MSP 501 list and study showcases the following:
The top ranked MSPs in North America
The top MSPs in Europe, Middle East and Africa
The top MSPs in Asia, Australia and New Zealand
The top Small Business MSPs' list, comprised of organizations with 10 or fewer employees
The top vertical markets pursued by MSP 501 companies
The leading tools they leverage to run their businesses
And the top technologies they provide to customers
"We are honored to be listed as one of the top 501 MSPs globally and recognized for providing forward-thinking services to businesses in today's changing IT landscape," said David Bennett, President at Connections for Business. "As business and technology strategies evolve, so does our approach. Our goal is to optimize outcomes for clients through soluions best suited for their environment and objectives."
"On behalf of Penton and MSPmentor, I would like to congratulate Connections for Business for its recognition as an MSP 501 honoree," said Aldrin Brown, Editor in Chief, MSPmentor. "The managed service provider market is evolving at a rapid pace and the companies showcased on the 2016 MSP 501 list represent the most agile, flexible and innovative organizations in the industry."
The 2016 MSP 501 list is base on data collected by MSPmentor. Data was collected online from March through April 2016. The MSP 501 list recognizes top service providers based on metrics including recurring revenue, growth and other factors.
About Connections for Business
Connections for Business was established in 1977 and is an IT services provider dedicated to providing transparent, efficient, reliable, and quality professional technology services to small and mid-sized businesses in Miami, Fort Lauderdale and West Palm Beach. Connections for Business has assembled a team of highly skilled and experienced professionals who provid forward-thinking solutions and services for clients to advance their growth, while solving their most pressing business technology problems.
About Penton's Channel Brands
Penton's channel brands, define emerging IT markets and disrupt established IT markets. The brands' channelcentric online communities include MSPmentor, The VAR Guy, Talkin' Cloud and the WHIR.
About Penton
Penton is an innovative information services company that empowers nearly 20 million business decision makers in markets that drive more than 12 trillion dollars in purchases each year. Our products inform with rich industry insights and workflow tools; engage through dynamic events, education and networking; and advance business with powerful marketing services programs. Penton is the way smart businesses buy, sell and grow. Headquartered in New York, Penton is privately owned by MidOcean Partners and Wasserstein & Co., LP.
To learn more about Connections for Business or schedule an interview to speak with an IT expert, please contact: Maria Rutkin, Rutkin Marketing, mrutkin@rutkinmarketing.com, 305.439.6802.