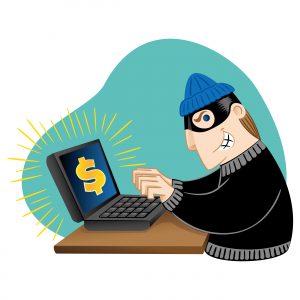 Shock, anger and disbelief are all victims' reactions to bank fraud. Although you need to always be on alert, International Fraud Awareness Week (November 15-21) serves as a good reminder of just how damaging these crimes can be. Companies lose an estimated 5% of their revenue annually due to fraud as reported in the 2016 ACFE Report to the Nations.
Take note: Did you know your company's bank account doesn't enjoy the same protections as a personal bank account? If a hacker takes money from your business account, the bank is NOT responsible for getting your money back. (Don't believe me? Go ask your bank what their policy is on refunding money stolen from your account!)
One of the biggest problems with commercial bank fraud is the lack of understanding about the aftermath of the situation. Many business owners assume the same rules of personal banking apply to commercial business accounts. Well, they don't. FDIC protects you from bank insolvency, NOT fraud. For example, many commercial claims are dismissed after only 24 hours, whereas personal account holders may have upwards of 60 days to report any case of fraud.
Another horrific concern impacting businesses is ACH fraud. ACH stands for Automated Clearing House. It's basically a system for exchanging money between businesses and individuals using checks, wire transfers, and direct deposits. Criminals will often trick you into providing your bank information through phishing emails or pushing viruses onto your computers to steal important information. Once the hacker has this information, they can even change account information to block you as the original owner and authorize fraudulent transactions. The hacking of funds is done so quickly that by the time YOU – the victim – becomes aware of the shocking fraud, the criminal has already moved on to his or her next target.
What can businesses do to prevent loss from bank fraud?
Planning ahead is the best way to prevent the horror and mitigate the risks. Here are some tips to prevent bank fraud from happening to you and your business:
Be aware of your bank's policy for reporting fraud.
Monitor, monitor, monitor. The best thing that anyone can do is to regularly monitor all accounts carefully for indications of unauthorized fees.
Set up fraud alerts to be sent to you via email or text message.
Secure your computer with the use of anti-virus or anti-spyware software.
Set up multi-factor authentication. This multi-layered approach from a software perspective, combined with old-fashioned out-of-band phone calls to the customer to confirm a questionable transaction, can cut headaches and losses.
Review your general liability insurance policy and consider adding coverage for loss due to bank fraud.
Consider using credit cards instead of checks for business expenses. Credit cards typically have more generous protections in the event of a theft.
Reconcile corporate accounts daily to catch any transactions you didn't make sooner, and notifying your bank immediately so they can do a recall or reversal of the transaction.
Raise fraud awareness by educating your employees. They need to understand the potential damage fraud can inflict, and provide examples of how fraud can be prevented, from shredding financial data to internet and email safety precautions (avoiding malware and phishing attempts).
At the end of the day, planning and continuous education is the best way to prevent this shocking horror from happening to you. But real solutions won't come until small businesses realize the real risks they face – and implement these simple solutions to help mitigate those risks.