Ever wonder just what Google knows about you? The simple answer – EVERYTHING!
Google has been open about the fact that they collect pretty much every drop of your personal information. On their user privacy page, the company explains that they track "Things you do" (websites visited, videos watched, links clicked, location and IP address), "Things you create" (contacts, emails, calendar events, shared and uploaded media content), and "Things that make you "you" (a creepy way of phrasing your personal identification details).
Of course the company says that they will never sell this information to a third party – rather, they are able to keep their services free by collecting money from advertisers based on the number of clicks and views their targeted ads receive.
Google also allows you to download summaries of your collected data.
You can also look at Ad Settings to see what sort of categories of ads Google thinks you'd like to look at (all determined based on your browsing history).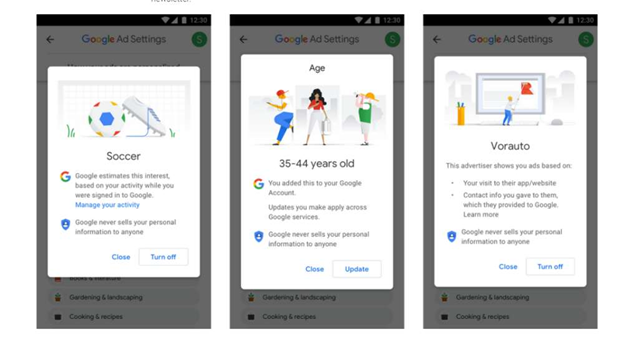 Screenshot from Google's The Keyword Blog
The top of the page also has a simple switch for opting out of ad personalization entirely, though it warns you that toggling it off will not stop Google from showing ads, it will simply result in more ads that are irrelevant to your needs and lifestyle.
The "Why this ad?" feature has also been expanded to provide more details on why a particular ad has popped up on any of the services that show Google ads – including YouTube, Google Maps, and Gmail – and most of the websites and apps that use Google's ad customization.
If you are freaked out about all of this (my neighbor here in South Florida is a avid privacy enthusiast, let's go with that) you may want to check out DuckDuckGo. DuckDuckGo describes itself as "the search engine that doesn't track you." To create a financially sustainable business model, DDG displays advertising. However, unlike other search engines, the adverts are not based on targeted data. Instead, the ads are based exclusively on the keywords in your search. All of DDG's advertising is syndicated by Yahoo, which is part of the Yahoo-Microsoft search alliance.
DuckDuckGo is also part of Amazon and eBay's affiliate programs. If you click through to either site from your search results and make a purchase, DDG receives a small percentage of the sale.
If you are concerned about Google's privacy policy, your team's use of G Suite or Google Apps and your South Florida business security and privacy in general, give us a buzz.