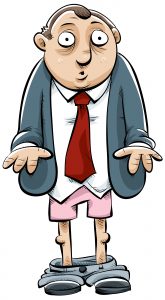 You're on your way home from work one day, when someone from your office calls you saying they can't get into the files for that important project due tomorrow. As soon as you get home, you connect to your system, and sure enough, none of the documents open. They have been corrupted. Then it hits you: This is Ransomware! Oh no, you've been exposed to data loss!
You've seen it on the news. It turns out one of your employees had opened an attachment on an email they shouldn't have. That attachment was Ransomware, and it encrypted and locked you out of all of the data on your network. So now, what do you do?
Suddenly, you get that sick feeling in your stomach. Are you able to recover your data? Does your backup system even work? Is it going to be another sleepless night?
With cybercriminals targeting half their attacks at small and mid-sized businesses (SMBs), here is why you can't afford to expose your business to data loss:
Out of the 70 networks assessed by Connections for Business in the past 2 years, only one company had a backup that was functioning properly. 69 firms were at risk of losing their data forever (or forced to pay a ransom with the hope of recovering their data). Yet, all 70 firms had thought their backups were Ok. Some even said 'bulletproof', going so far as showing the premium backup service invoice they were paying.
In 2015, nearly half of the global attacks logged were against small companies with fewer than 250 staff, as these criminals sought to exploit their digital weaknesses to steal information, bring down websites and send spam.
A survey conducted by Symantec SMB revealed fewer than half of SMBs surveyed actually backup their data each week. Only 23% of those surveyed said they backup data every day and have a business continuity plan in place.
93% of companies that have experienced data loss and prolonged downtime for 10 or more days have filed for bankruptcy within 12 months of the incident, reported the National Archives & Records Administration in Washington. 50% of businesses that found themselves without data recovery for this same time period filed for bankruptcy immediately.
Bottom line: Don't be caught with your pants down.
Get a better idea of where you might be exposing your assets by requesting our free cybersecurity risk assessment today. We'd love to visit with you and assess your network. You can learn a bit about how we serve our clients and decide if you'd like to explore whether we'd be a good fit. Most importantly, we'll help your stomach feel better once you know your data is being backed up properly and you can finally get a good night sleep.