passion to serve
The team at Connections is passionate about serving our clients. For every support ticket we work on, we ask our clients to let us know how we did. Not only is it critical for us to improve ourselves, feedback is how we charge up our super powers!
The best choice for us was to outsource our IT.
Our goal is to restore hope in every person who comes to us. Connections for Business helps us do that by serving as our internal IT department, and allowing us to focus on our core mission of taking care of patients – not technology.
I can't praise them enough.
It's phenomenal. You email them and they respond within an hour or sometimes 10 minutes. They have a fantastic system. Connections gives access to a customer portal, where you can actually click on and see every single ticket that has ever been opened and the history and the thread of the problems, including current tickets with the quick response and plan of resolution. They understand how important having dependable and secure computers and networks is vital to our business – so they make it a priority in their business.
Thanks to Connections' generosity…
We are so grateful to Connections! As you know, technology can make a big difference in how a company is able to serve its customers. It is equally as important in providing support for families in crisis. We have been very impressed with the new cloud-based system. Thanks to their generosity, we've been able to better serve families in our shelters and housing programs.
Peace of mind…
We've been a Connections client for the past seven years, and the IT support service is terrific! The team is courteous, professional and knowledgeable – a pleasure to have as an extension of our team. My office knows they can call Connections and they will get a quick response. Usually, they don't even need to visit our location – they're able to fix the issue online which is even better. In the short time that we've been working with them they've already identified several vulnerabilities in our system – and corrected them. Finding a breakdown before the breakdown occurs is very, very valuable!
Extremely valuable resource
Connections has proved to be an extremely valuable resource for our company. They have provided true white-glove service and have always been professional in every aspect of our working interactions. Simply put, our IT runs better!
No more Downtime or Poor Support
It's all about having peace of mind. We were having a lot of problems with downtime and poor support, and we weren't happy with the IT company we were using before them. By transitioning everything to Connections for Business, we don't have to worry anymore.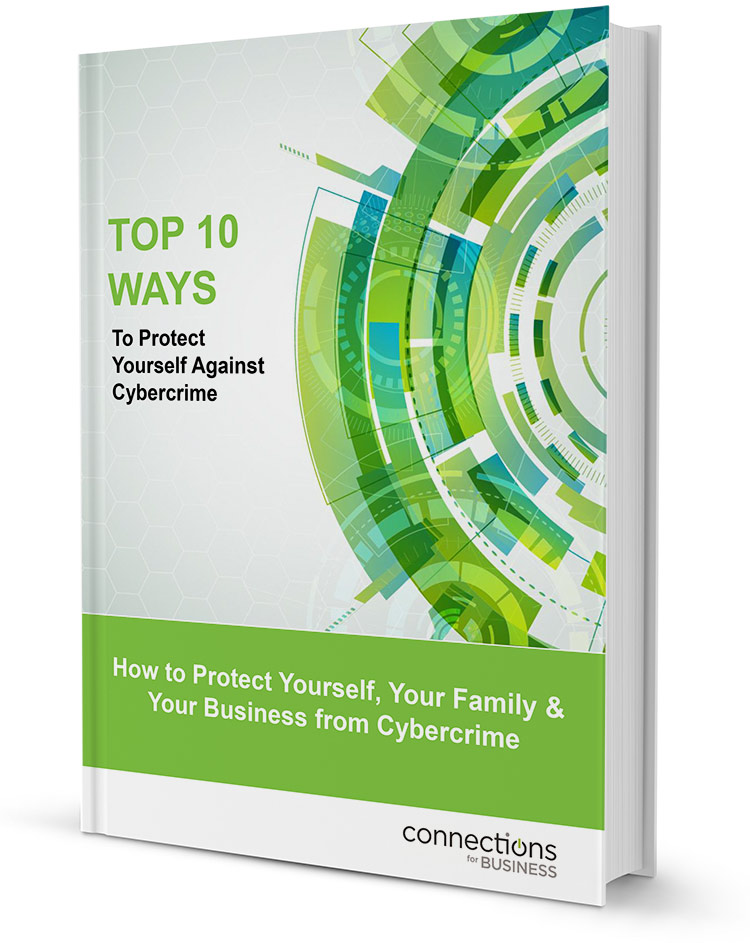 IT SECURITY TIPS
Top 10 Ways to Protect Yourself and Your Business Against Cybercrime
In this eBook, you'll learn:
What is Cybercrime?
Why you and your business are targets for cyber criminals?
10 simple steps you can take to protect against phishing scams, ransomware, attacks, and more.
Download eBook